Contacts
The item has been successfully added to cart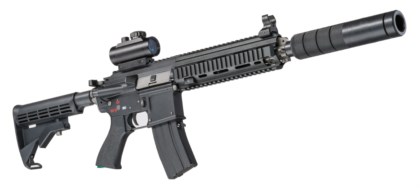 Equipment Options
Version
Optics type
Defeat sensors and battery charger must be purchased separately for selected version
Available options for selected version
Defeat sensors and battery charger must be purchased separately for selected version
Available options for selected version
Defeat sensors and battery charger must be purchased separately for selected version
Available options for selected version
DESCRIPTION

PARAMETERS

CUSTOMER REVIEWS
The Heckler & Koch 416 assault rifle was created as an alternative to US M-4 and M-16, surpassing them in terms of reliability and functionality.
The HK-416 is well known for high quality. The frame is made of metal plus shock proof plastic. The weapon supports full electronics integration.
Use the safety catch to turn on the weapon, the bolt located on top of receiver is responsible for reloading.
You can install lots of additional equipment thanks to four Picatinny rails. You can adjust the length of the rifle with the help of the telescopic butt.

The weight is 3 kg, the length is 86 / 94 cm. The lithium accumulator (2. 2 Ah) is the heart of the set.
*Attention! The sight must be purchased separately and not included in the play set!
| | |
| --- | --- |
| Charger type | Li+ (8,4V; 1000 mA) |
| Batttery type | Li+ (2,2 Ah; 7,4V) |
| battery life | 30 h |

| | |
| --- | --- |
| Effective firing range | 185 m |
| Length | 94 cm |
| Weight | 3 kg |
| | |
| --- | --- |
| Charger type | Li+ (8,4V; 1000 mA) |
| Batttery type | Li+ (2,2 Ah; 7,4V) |
| battery life | 30 h |
| Effective firing range | 185 m |
| Length | 94 cm |
| Weight | 3 kg |

Download Passport 0.4 MB (DOC)