Contacts
The item has been successfully added to cart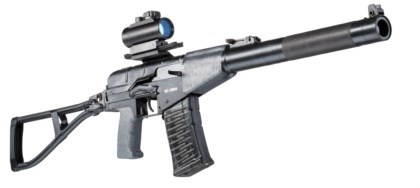 Equipment Options
Version
Optics type
Defeat sensors and battery charger must be purchased separately for selected version
Available options for selected version
Defeat sensors and battery charger must be purchased separately for selected version
Available options for selected version
Defeat sensors and battery charger must be purchased separately for selected version
Available options for selected version
DESCRIPTION

VIDEO

PARAMETERS

CUSTOMER REVIEWS
The model is specially created for laser tag fights. The pistol grip and foregrip are made of shock-resistant plastic, the frame is made of metal.
The Bluetooth-module is located inside the magazine. Due to the fact that the magazine is made of plastic, the range and quality of Bluetooth communication have significantly increased.
Press the button located on top of the receiver to turn on the weapon. Use the bolt to reload the weapon (the spring has been improved, so the bolt goes smoother). The safety catch preserved its functions.
*Attention! The sight must be purchased separately and not included in the play set!
You can fold the buttstock.
The lithium accumulator (2. 2 Ah) is the heart of the set.
Weight — 2.3 kg.
Length — 90 cm.
The range is 200 meters.
| | |
| --- | --- |
| Charger type | Li+ (8,4V; 1000 mA) |
| Battery type | Li+ (2,6 Ah; 7,4V) |
| Battery life | 30 h |

| | |
| --- | --- |
| Effective firing range | 175 m |
| Length | 90 cm |
| Weight | 2.3 kg |
| | |
| --- | --- |
| Charger type | Li+ (8,4V; 1000 mA) |
| Battery type | Li+ (2,6 Ah; 7,4V) |
| Battery life | 30 h |
| Effective firing range | 175 m |
| Length | 90 cm |
| Weight | 2.3 kg |

Download Passport 0.4 MB (DOC)