HK G36 CV Bundeswehr Original Series
HK G36 CV Bundeswehr Original Series
The assault rifle was manufactured by the German company Heckler&Koch in the early 1990s. The designers had the task of replacing HK G3, a 7.62 caliber automatic rifle, for army forces. The decision was taken back in 1970. The development of the new rifle was entrusted to the Heckler&Koch company, which designed the HK G11 rifle. However, it was not adopted.
In 1993 the company developed new tactical and technical specifications for its light machine gun and rifle, and instead of financing the development of the rifle, it decided to hold a competitive bidding process for the samples. The HK-G36 rifle and the HK-MG36 light machine gun were chosen during the military trials and comparative tests.
The assault rifle as a whole proved to be a modern weapon, an excellent, reliable, accurate and comfortable solution. In addition to Germany itself, the rifle was adopted as the basic infantry weapon by the armies of Malaysia, Indonesia, Latvia, Lithuania and Spain.
The G36 rifle and its modifications are in service with police and military units in over 40 countries, including UK, US, Poland, Brazil, Thailand, Norway and Australia.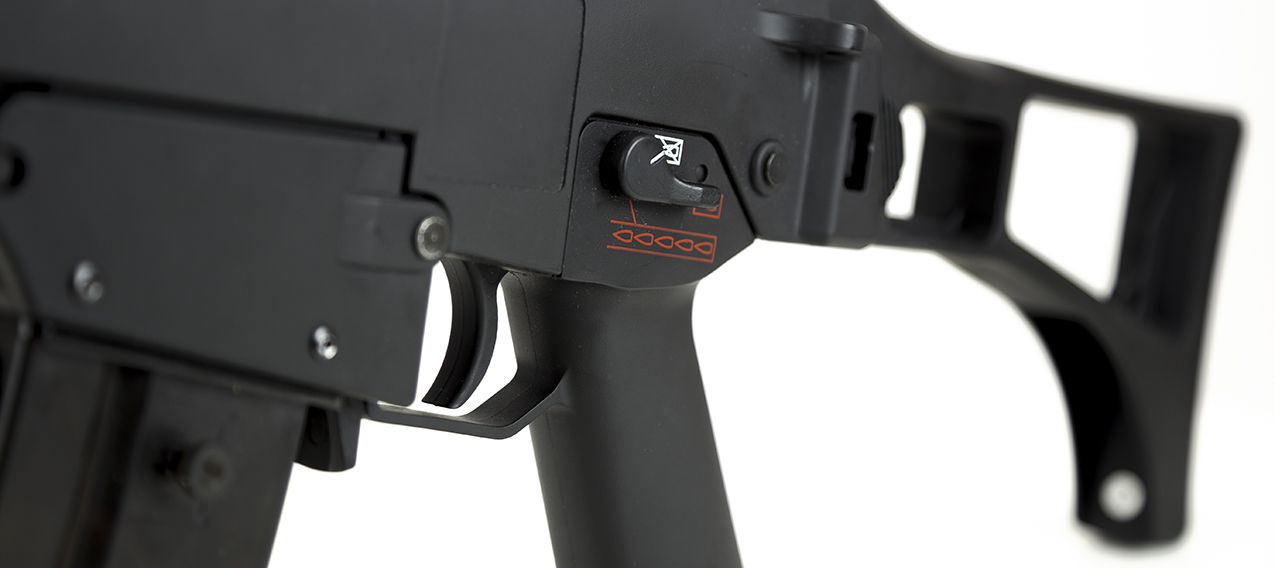 Characteristics of design
G36's arrangement of parts enabled it to become one of the most recognizable rifles in the world. G36 was featured in films, used in PC games and won the hearts of many laser tag players. At first glance, G36 appears to be a rifle from the future: crisp edges, nice and soft polymer buttstock. Everything looks futuristic. Bundeswehr is lightweight, weighing 2.75 kg and 96 cm long.
The rifle has a distinctive non-adjustable buttstock, which folds down to the right side of the body. The pistol grip has no "frills": it has the right inclination angle, but there are no finger recesses or grooves. G36 boasts 4 Picatinny rails: 3 are located on the foregrip and 1 above the bolt carrier. The rifle is fitted as standard with an adjustable backsight and foresight. We can tell you from experience that they are rarely used: players prefer collimator sights.
The rifle is ideal for both right- and left-handed shooters: the bolt design makes it equally easy to reload from either side.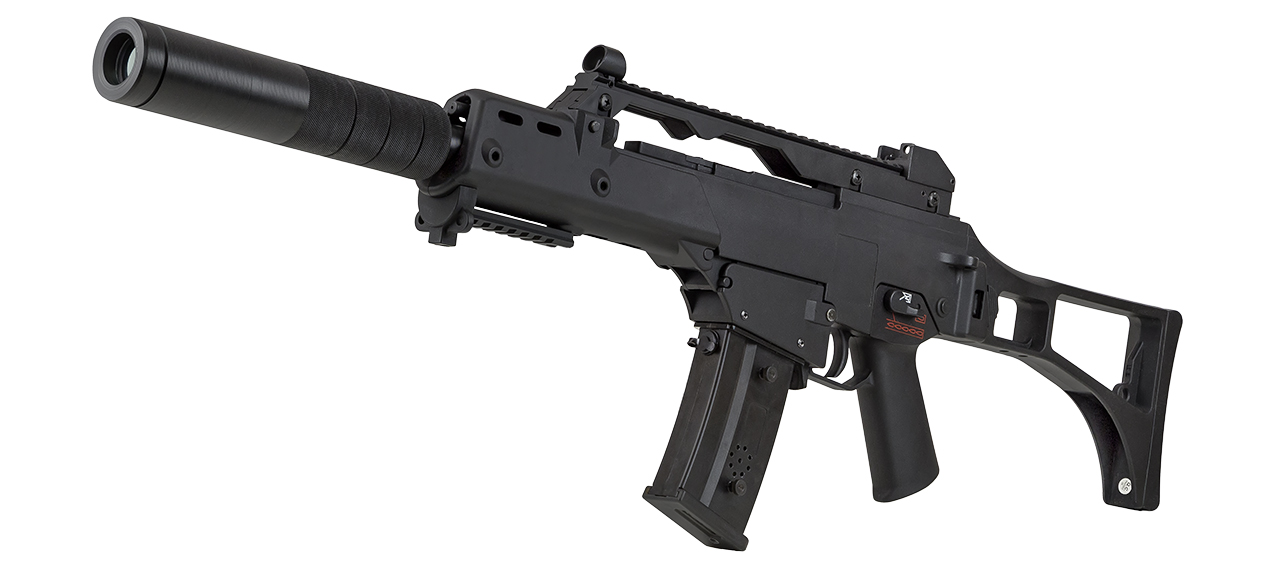 The default game set includes the rifle. Hit sensors, chargers, sights and tactical grips are not included. Consider buying a branded grip from LASERWAR. It is easy to attach and has proven itself in a good way.
Inside the weapon there is a 2.2 Ah lithium battery. Up to 36 hours of continuous operation is guaranteed. G36 is part of the Original series, which means that it is based on the original Umarex strikeball drive unit. We recommend this tagger only for personal use. The bolt carrier and folding buttstock require careful handling.
Bundeswehr has a hit sensor built into the barrel. The recoil technology and OLED display are optional and are available at extra cost. The warranty on the game model is 12 months.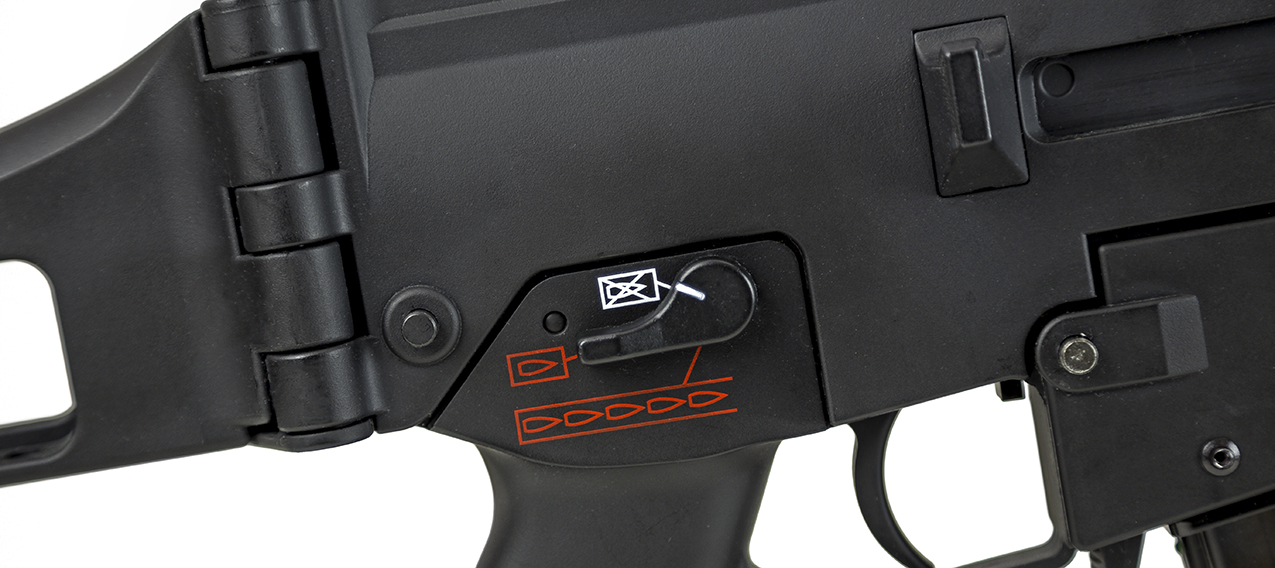 Parameters
| | |
| --- | --- |
| Charger type | Li+ (8,4V; 1000 mA) |
| Battery type | Li+ (2,2 Ah; 7,4V) |
| Battery life | 30 h |
| | |
| --- | --- |
| Effective firing range | 185 m |
| Length | 85.5 cm |
| Weight | 2.75 kg |
| | |
| --- | --- |
| Charger type | Li+ (8,4V; 1000 mA) |
| Battery type | Li+ (2,2 Ah; 7,4V) |
| Battery life | 30 h |
| Effective firing range | 185 m |
| Length | 85.5 cm |
| Weight | 2.75 kg |

Download Passport 0.4 MB (DOC)