AS Val Shadow Practical Series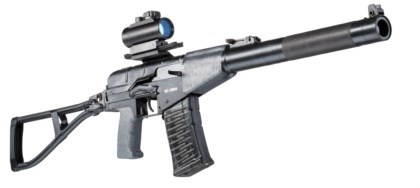 War has never been about overt armed confrontation. Quite often it is not a massive offensive company accompanied by the terrifying sound of artillery cannonade bringing success, but "quiet", - hidden from the enemy's eyes operations - carried out by relatively small groups of well-trained fighters. Such squads require special weapons - silent but capable of destroying targets at considerable distances.
The Soviet Union developed the Val assault rifle with those requirements in mind, and it is still actively used today by army elite forces, as well as by the Federal Security Service and FPS security forces. This weapon is extremely highly regarded by military experts in many countries worldwide.
Characteristics of design
The Practical series means the game Val version is ready to stand against laser tag opponents. The rifle is fitted with a left-hand folding buttstock, a two- position fire mode switch and a ramp-type sight. The triangular-shaped buttstock is beveled slightly to the bottom for a tighter shoulder fit.
The pistol grip, which has a slightly corrugated surface, is used to hold the rifle firmly and comfortably. The bolt is used for reloading and is operated by means of the grip located on the right side. Shadow accepts more advanced additional equipment: there is a special rail on the left side of the receiver for optional optics.
A special feature of the game set is the absence of an external tube system. The optical system is integrated inside the model, the optical lens, the IR emitter are perfectly housed in the standard body design.
The weapon is powered by a 2.2 Ah lithium battery and is guaranteed up to 36 hours of operation. The rifle is included in the standard scope of supply. Hit sensors, chargers, sights are purchased separately.
The optics can be used with any magnification, but here it is more a question of the player's specific objectives and the sight appearance. Val supports any laser tag platform: 9, 10, 11th can be used without restrictions. A recoil imitation is optional and can be purchased separately.
Parameters
| | |
| --- | --- |
| Charger type | Li+ (8,4V; 1000 mA) |
| Battery type | Li+ (2,6 Ah; 7,4V) |
| Battery life | 30 h |
| | |
| --- | --- |
| Effective firing range | 175 m |
| Length | 90 cm |
| Weight | 2.3 kg |
| | |
| --- | --- |
| Charger type | Li+ (8,4V; 1000 mA) |
| Battery type | Li+ (2,6 Ah; 7,4V) |
| Battery life | 30 h |
| Effective firing range | 175 m |
| Length | 90 cm |
| Weight | 2.3 kg |

Download Passport 0.4 MB (DOC)