Contacts
The item has been successfully added to cart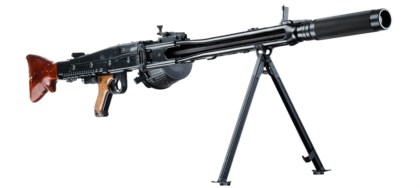 Equipment Options
Version
Optics type
Defeat sensors and battery charger must be purchased separately for selected version
Available options for selected version
Defeat sensors and battery charger must be purchased separately for selected version
Available options for selected version
Defeat sensors and battery charger must be purchased separately for selected version
Available options for selected version
DESCRIPTION

PARAMETERS

CUSTOMER REVIEWS
Wars have always stimulated the rapid development of destruction means. Most technical thought creations took their place in museums. Some of them are hopelessly outdated, others have served as a basis for the creation of new, more sophisticated weapon systems. But most good old weapons will never come back. With very few exceptions. The German MG42 machine gun is such an exception. Russian soldiers and their allies called it a "bone carver", "Hitler`s circular saw". MG42 and its modifications are still used r not only in the Bundeswehr but also in the armies of other countries, including Austria, Burma, Denmark. The weapon was also produced in Italy, Iran, Spain, Pakistan, Turkey, and Yugoslavia.

Let's thank Laserwar Company. Now the weapon is available for sale. It is based on an airsoft model of high quality. The durable frame is made from metal. With the help of the fluted grip, you can comfortably hold the weapon. The buttstock is made of wood and has its distinctive slightly forked shape. It is good for shoulder support and makes it possible to hold the weapon with your left hand while shooting from the bipod. The weight of the model is 5.6 kg.

The sighting equipment consists of a foresight and backsight. The foresight is located on the barrel guard. MG42 has a ramp-type sight. Optimal range — 300 meters.

One of the design features is the drum mechanism. This is where the anti-vandal lock (use it for turning on), power socket and reload button are located. Also, there is a very good dynamic. A 2200 mAh lithium accumulator gives up to 30 hours of great performance. The length is 135 cm.

The device will be a good present for a real pro. But one has to pay for such a luxury. The price of the game ser starts from 1120 dollars.

We can say with confidence that in skillful hands the game set will present many problems to your opponents.
| | |
| --- | --- |
| Charger type | Li+ (8,4V; 1000 mA) |
| Battery type | Li+ (2,2 Ah; 7,4V) |
| Battery life | 30 h |

| | |
| --- | --- |
| Effective firing range | 300 m |
| Length | 135 cm |
| Weight | 5.6 kg |
| | |
| --- | --- |
| Charger type | Li+ (8,4V; 1000 mA) |
| Battery type | Li+ (2,2 Ah; 7,4V) |
| Battery life | 30 h |
| Effective firing range | 300 m |
| Length | 135 cm |
| Weight | 5.6 kg |

Download Passport 0.5 MB (DOC)