Electronic target shooting RGB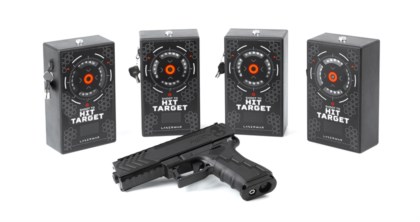 The Electronic target for laser tag is a game set with four targets and one tagger. You can also buy one target in our online shop. The game set is suitable for practicing marksmanship and teaching players. This is an ideal solution for rental clubs - it's easy to use, both kids and adults can shoot.
We strongly recommend the game set for both rental and personal use. If you wish, the target can be placed in a flat or in the backyard. The entertainment will be particularly appreciated by younger players.
The game set includes the Hornet pistol, SPECIAL series running on 9-th generation electronics. No hit sensors are required to activate the game set - the tagger uses special firmware that makes it possible to do without a vest, helmet or headband. Hornet belongs to a range of equipment entirely developed by LASERWAR specialists. The gun is compact. It can be reloaded using the bolt and is activated by pressing the button.
Before the game, the targets are placed in different places, at a distance from each other. Once the game starts, one of the targets lights up in lilac for the time set in the settings, most often a very small interval. The device flashes with the color of the team which player managed to hit the bull's-eye. Earned points appear on the OLED display. All game action is accompanied not only by illumination, but also by sound.
An arcade mode must be set up to put the targets into electronic shooting gallery mode. It is indicated by the letter A in the settings. The game set can be operated using the Nano Smart Remote or the Universal Remote. The sound, backlighting and brightness can be adjusted. Without the arcade mode, the target runs with no time limit.
The scope of supply includes one tagger and four targets. Laser tag remotes and chargers are available for a fee. The pistol and targets will last for more than a dozen games on a single charge.