Crater Bomb
Crater - a device that simulates a bomb with a timer for laser tag. Like most LASERWAR devices, this additional equipment has a versatile design. The impact-resistant body reliably protects all electronics, the large red button is deliberately framed with red and yellow lines. The bright display shows the countdown. The screen image does not fade in strong light and is perfectly visible in low light.
The laser tag bomb can be attached to any vertical or horizontal surface. For example, it can be hung on a wall or even attached to the ceiling. The device weighs just 500 g.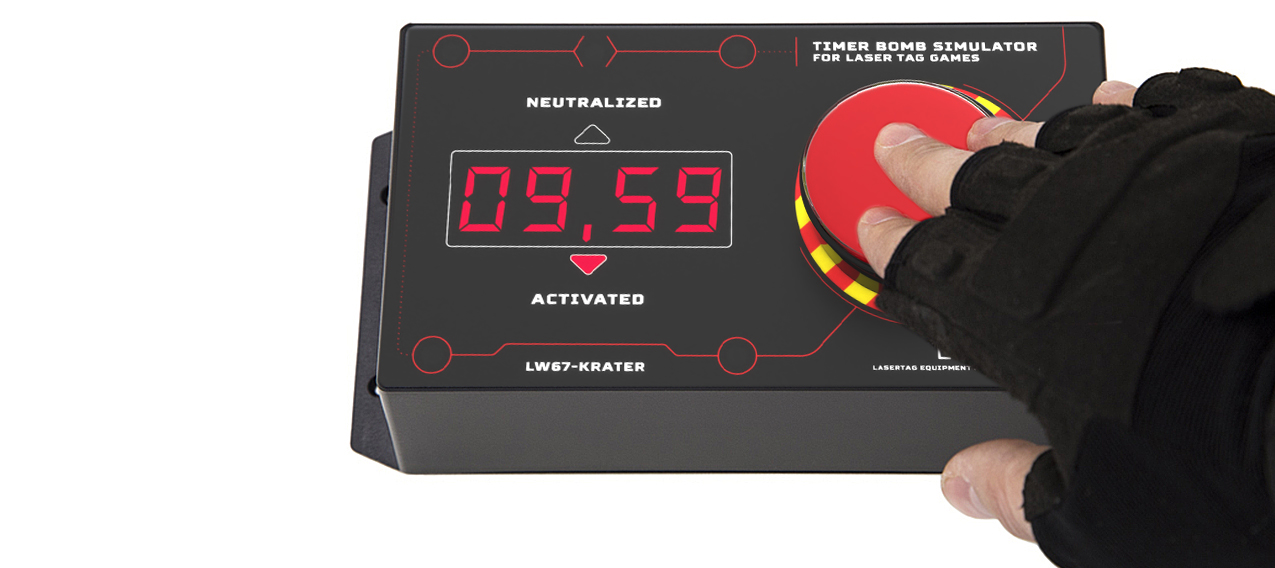 All LASERWAR devices are simple and straightforward to use. The laser tag bomb is activated by turning the key located on the device body. The red button must be pressed for three seconds. After that, the word "Fire" will pop up. Planting the bomb as well as defusing it is up to the active player. The bomb is triggered when shot at with a tagger.
Defusing follows the same principle. The player holds down the button for a few seconds, shoots at the bomb, and the countdown stops. The "shot confirmation" helps avoid cheating.
The game set can be set up using the laser tag remote or the LASERWAR Configurator. Select this device from the programme menu and go to the bomb settings. Remember to connect the USB base to your PC, positioning it opposite the IR receiver of the laser tag bomb. The Configurator changes the button hold time for activation/deactivation, the activation/deactivation confirmation with a shot, time to detonation, emitted command. The latter option includes 65 commands for a varied and non-boring laser tag game.
Here it all depends on your preferences and desires. The device will last 36 hours on a single charge.
As a reminder, the LASERWAR Configurator is freely available on the company's website.
Parameters
| | |
| --- | --- |
| Charger type | Smart Li+ |
| Battery type | Li (2,2 Ah; 7.4V) |
| Battery life | up to 36 h |
| | |
| --- | --- |
| Dimensions | 22.5x10.5x6 |
| Weight | 0.5 kg |
| | |
| --- | --- |
| Charger type | Smart Li+ |
| Battery type | Li (2,2 Ah; 7.4V) |
| Battery life | up to 36 h |
| Dimensions | 22.5x10.5x6 |
| Weight | 0.5 kg |

Download Passport 1.2 MB (DOC)