Basic First Aid Kit
The basic first aid kit is designed to be installed at the bases of the competing teams, hence the name of the device. The body is standard black, made of durable plastic.
As standard, all gameplay is done by pressing a single red button. It is deliberately positioned above the body for easier pressing and doesn't get "stuck" when used. The button is surrounded by a red and yellow frame for visual purposes and stylish look. The first aid kit is mounted to the wall or placed upright on any surface.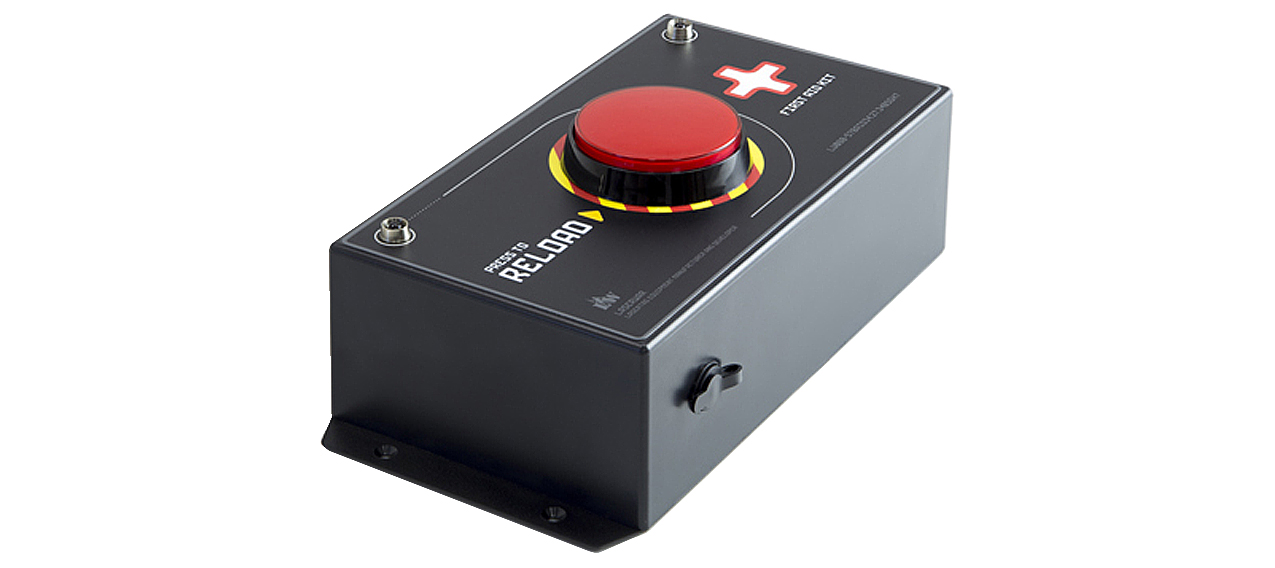 The game set performs the standard functions of "healing" devices. When the red button is pressed, players replenish hp, ammo, "killed" players are revived and go back into the fight. The device is used in almost every laser tag game.
The first aid kit weighs just 480 g, is 18.5 cm high, 11.5 cm wide and 6.5 cm thick.
The unit is activated by means of a key and an anti-vandal lock located on top of the body. The power connector with a rubber plug is located on the body underside. By default, the game set performs standard "hp", "ammo" and "revive" commands for players.
The device houses a lithium battery that guarantees up to 36 hours of gaming time on a single charge. The scope of supply includes the basic first aid kit and two activation keys. The charger is purchased separately.
Parameters
| | |
| --- | --- |
| Battery life | up to 30 h |
| Battery type | Li (2,2 Ah; 7.4V) |
| Charger type | Smart Li+ |
| | |
| --- | --- |
| Dimensions | 22х11х8 cm |
| Weight | 0.480 kg |
| | |
| --- | --- |
| Battery life | up to 30 h |
| Battery type | Li (2,2 Ah; 7.4V) |
| Charger type | Smart Li+ |
| Dimensions | 22х11х8 cm |
| Weight | 0.480 kg |

Download Passport 0.7 MB (DOC)