Innoprom 2018 – the exhibition of industrial equipment that was mounted in Ekaterinburg between 9 and 12 July – showed itself an excellent place for business conventions, new clients, productive business negotiations. As a result of the event, the LASERWAR company has made lots of useful contacts and has been left with memorable impressions.
Over 600 companies from 20 countries took part in INNOPROM 2018. Those are the major international and Russian manufacturers: industrial and commercial delegations from 95 countries and national stands from Japan, Germany, Italy, India and South Korea. Just think about the numbers! Our Smolensk based company producer of laser tag equipment were proud to present our products together with the leading technological developments.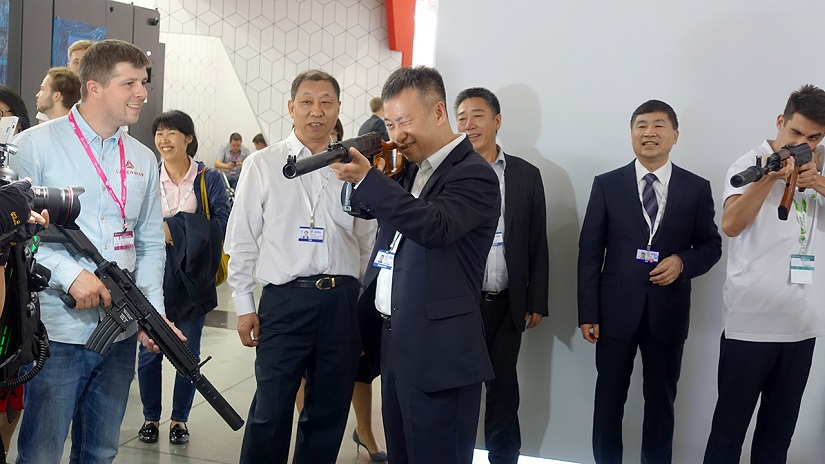 All devotees could see, evaluate and try out various new laser tag developments produced by our company at the LASERWAR stand, Industrial Automation zone.
For those who are interested in indoor laser tag, our specialists brought a new thing of 2018 – CYBERTAG Black Edition. It is an upgraded version of a popular equipment set for laser tag arenas, which now comes with a new blaster and additional scenarios.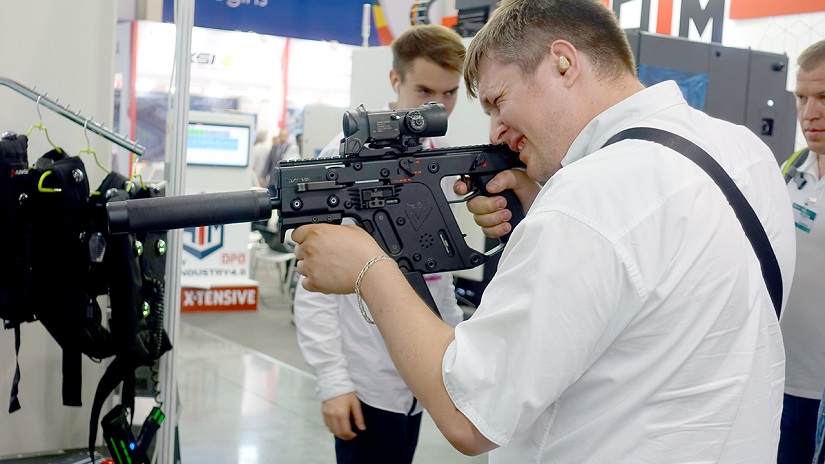 We've managed to wow laser biathlon admirers, too, by presenting a new biathlon rifle of the Laser biathlon 2.0 Light set. It has literally become the pearl of the whole range of Laser Biathlon. Comfortable, authentic, it has been reasonably priced and will certainly become popular among young sportsmen.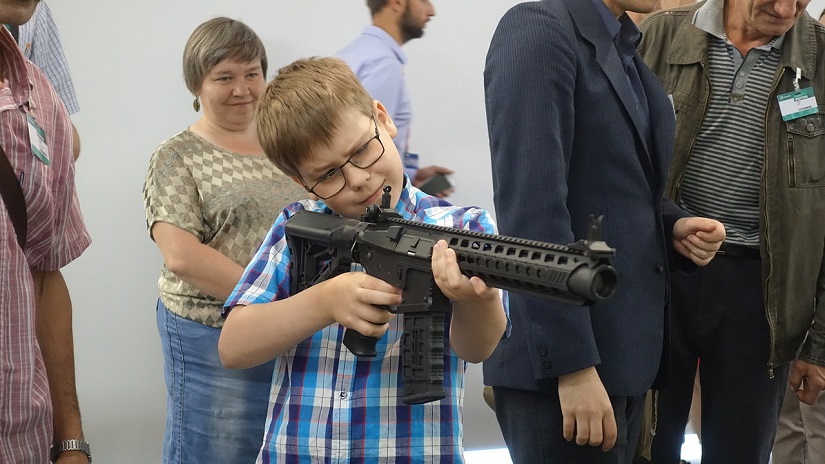 The managers of our stand had lots of new gadgets for those who prefer classic laser tag. The new smart devices that have been added to the range of LASERWAR additional equipment can significantly diversify and enrich a game process. The Smart Battle Base and the Smart Control Point are universal multifunctional devices. Eye-catching clear indication, powerful and flawless sound and a variety of scenarios – these are their distinctive features.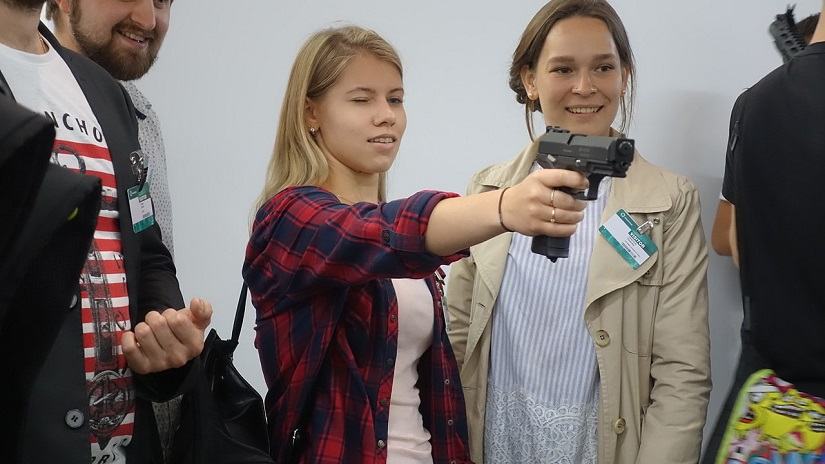 Throughout the duration of the exhibition, the LASERWAR stand was crowded. the tagers drew the attention not only of adults, but also of kids. The consultants working behind our stand were glad to answer the questions of curious kids, which they reeled off at a rate of knots: What is a team game? How do I hold a weapon and point it correctly? What are the main principles of firing laser tag weapons?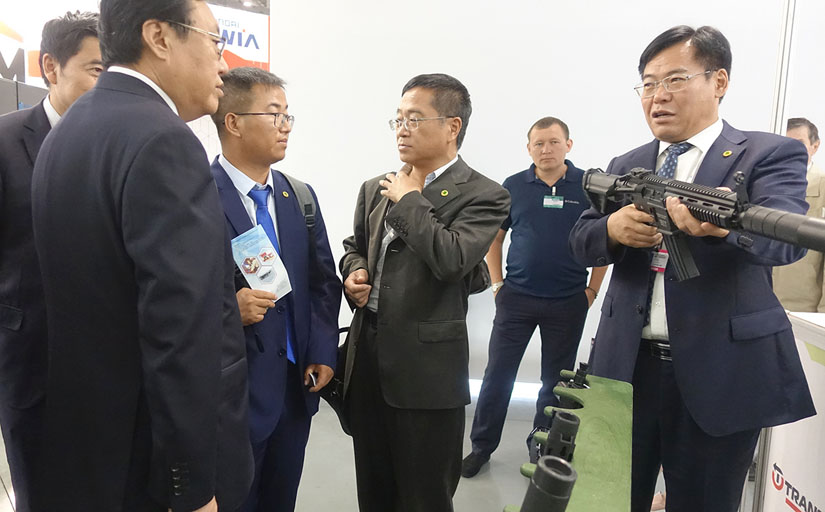 We cannot help mentioning that the Smolensk Oblast Export Support Centre provided great support to the group of Smolensk based companies with the preparation for the event. You can find more information about the exhibition at the official website of the Smolensk Oblast Export Support Centre.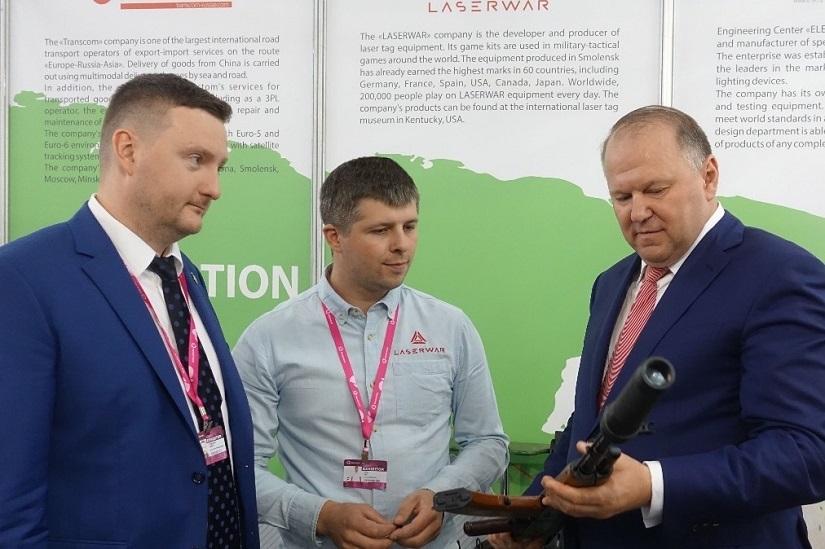 Our stand was noted by high-level official, too. Nikolay Nikolayevich Tsukanov, President Vladimir Putin's plenipotentiary envoy to the Northwestern Federal District; Alexander Vitalyevich Anikin, the Russian sales representative in Norway; Ekaterina Dmitrievna Belyakova, the Russian sales representative in the Slovak Republic.
All in all, LASERWAR may consider its participation in Innoprom 2018 as yet another success story on their way towards establishing company reputation on the Russian and international markets.