M4 SHARK ORIGINAL Series
M4 is an iconic American assault rifle that is based on M-16A2 and was originally designed for operating personnel and combat vehicle crews. But it was later used by the US Army as a single weapon for all special operations forces.
Colt has undergone a number of upgrades throughout its existence. The M-16 assault rifle was made for US Special Forces as early as the Vietnam War. M-16A2 had a shorter foregrip and barrel; the front sight was moved closer to the shooter, and the massive plastic buttstock was replaced with a telescopic one. As a result, the M-720 rifle was adopted by US army in 1994 as M-4 and is no longer in US military service.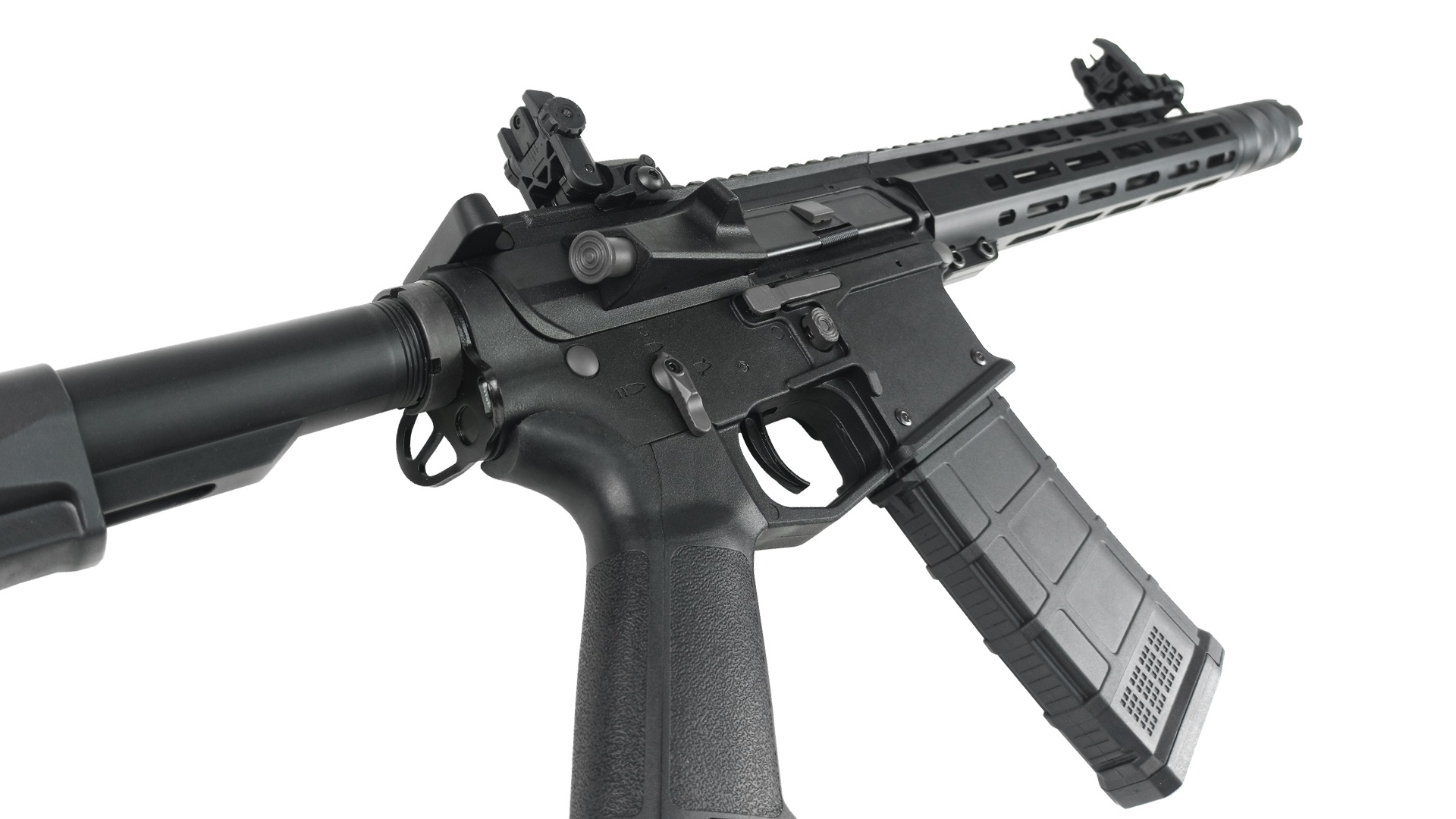 Characteristics of design
The feature of the weapon: the axis of the barrel bore passes through the buttstock pivot point, thus avoiding any "jumping" due to recoil, as well as increasing the shooting accuracy. The laser tag version replicates elements of its famous prototype.
SHARK is fitted with a full length M-LOK hexagonal foregrip. The entire upper side and receiver cover is a single large Picatinny rail for mounting sights or a target indicator. The folding rear sight and front sight are also located here.
The body consists of light-alloy metal and gunmetal plastic. The tagger weighs 2.1 kg and has an overall drive length of 63 cm. When the buttstock is fully folded, the length is reduced to 75 cm.
The powerful tagger speaker accompanies every game action. The 2,200 mAh battery is located in the buttstock tube and provides up to 36 hours of continuous play. It can be charged with a Li+ charger.
Use the fire mode switch located above the pistol grip to turn on the rifle. The bolt is used for reloading. As for the optical system, the choice is yours - the max. range for Prism is 250 m, for Parallax - 400 m.
The scope of supply includes only the weapon. Hit sensors and chargers and collimator sights are to be purchased separately.
Parameters
| | |
| --- | --- |
| Charger type | Li+ (8,4V; 1000 mA) |
| Battery type | Li+ (2,2 Ah; 7,4V) |
| Battery life | 30 h |
| | |
| --- | --- |
| Effective firing range | 250 m |
| Length | 75/83 cm |
| Weight | 2.1 kg |
| | |
| --- | --- |
| Charger type | Li+ (8,4V; 1000 mA) |
| Battery type | Li+ (2,2 Ah; 7,4V) |
| Battery life | 30 h |
| Effective firing range | 250 m |
| Length | 75/83 cm |
| Weight | 2.1 kg |

Download Passport 0.5 MB (DOC)