Contacts
The item has been successfully added to cart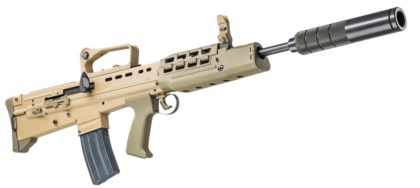 Equipment Options
Version
Optics type
Defeat sensors and battery charger must be purchased separately for selected version
Available options for selected version
Defeat sensors and battery charger must be purchased separately for selected version
Available options for selected version
Defeat sensors and battery charger must be purchased separately for selected version
Available options for selected version
DESCRIPTION

PARAMETERS

CUSTOMER REVIEWS
The British assault rifle L85A1 has the most complicated history among firearms. Introduced in the mid - '80s, it has undergone lots of improvements designed to reduce its sensitivity weather conditions, moisture and sand. And only in 2000 Heckler & Koch made the weapon satisfy the Army requirements.
The L85A1 uses the famous bullpup system. At the top of the receiver, you can find the standard sighting equipment and the carrying handle. You can substitute them with a collimator sight. The foregrip and the grip are made of shock-resistant plastic, the stock rest is made of special rubber-coated material. The rest is made of metal. Use the bolt to reload the weapon.
The Li+ 2,2 Ah accumulator is the heart of the weapon.
Weight — 3.4 kg.
Length — 90 cm.
Use the bolt to reload the weapon.
The range — 185 meters.
| | |
| --- | --- |
| Charger type | Li+ (8,4V; 1000 mA) |
| Battery type | Li+ (2,2 Ah; 7,4V) |
| Battery life | 30 h |

| | |
| --- | --- |
| Effective firing range | 185 m |
| Length | 90 cm |
| Weight | 3.4 kg |
| | |
| --- | --- |
| Charger type | Li+ (8,4V; 1000 mA) |
| Battery type | Li+ (2,2 Ah; 7,4V) |
| Battery life | 30 h |
| Effective firing range | 185 m |
| Length | 90 cm |
| Weight | 3.4 kg |

Download Passport 0.5 MB (DOC)