Contacts
The item has been successfully added to cart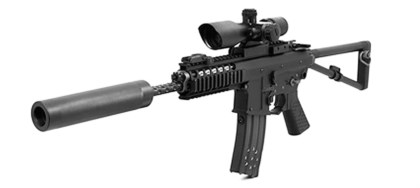 Equipment Options
Version
Optics type
Defeat sensors and battery charger must be purchased separately for selected version
Available options for selected version
Defeat sensors and battery charger must be purchased separately for selected version
Available options for selected version
Defeat sensors and battery charger must be purchased separately for selected version
Available options for selected version
DESCRIPTION

PARAMETERS

CUSTOMER REVIEWS
Based on WE KAC PDW Gas Blow Back airsoft model. The body is made from metal. All elements of the blaster are sturdy and durable, which is typical of all Gas Blow Back airsoft guns. The polyamide grip is very comfortable to hold with one's hand. The blaster has a foldable stock, which makes it possible to decrease its length from 87 cm to a more compact 64.5 cm. Several Weaver rails offer unlimited possibilities for customization. The speaker built into the magazine has excellent acoustic characteristics, meaning that the user will fully enjoy flawless digital sound during a game.
A notable improvement is the lack of an external unit with accumulators. All the electronics have been fitted inside the body. WE KAC PDW is essentially a true copy of the original, for only the original mechanical elements have been used in its electronic structure: breechblock reloading, safety catch switch (which guarantees that the equipment cannot be accidentally turned off during a game). This model has been specially developed for proficient laser tag players.
The li-ion accumulators (Li+ technology) with a capacity of 2200 Ah provide up to 30 hours of continuous operation time.
*Attention! The sight must be purchased separately and not included in the play set!
| | |
| --- | --- |
| Charger type | Li+ (8,4V; 1000 mA) |
| Battery type | Li+ (2,2 Ah; 7,4V) |
| Battery life | 30 h |

| | |
| --- | --- |
| Effective firing range | 185 m |
| Length | 87 cm |
| Weight | 2.5 kg |
| | |
| --- | --- |
| Charger type | Li+ (8,4V; 1000 mA) |
| Battery type | Li+ (2,2 Ah; 7,4V) |
| Battery life | 30 h |
| Effective firing range | 185 m |
| Length | 87 cm |
| Weight | 2.5 kg |

Download Passport 0.4 MB (DOC)