Contacts
The item has been successfully added to cart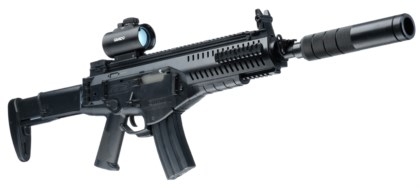 Equipment Options
Version
Optics type
Defeat sensors and battery charger must be purchased separately for selected version
Available options for selected version
Defeat sensors and battery charger must be purchased separately for selected version
Available options for selected version
Defeat sensors and battery charger must be purchased separately for selected version
Available options for selected version
DESCRIPTION

PARAMETERS

CUSTOMER REVIEWS
Beretta ARX160 is a modular assault rifle manufactured by Beretta. It was developed for the Italian Armed Forces as part of the Soldato Futuro (English: "Future Soldier") program. The concept of the project is to increase the productivity and efficiency of a single soldier involved in combat operations using technological advances of the XXI century. Almost all of the equipment included in this program supports the integration of soldiers in the digital command system.

The weapon from LASERWAR company is a good solution for professional assaulters. Now everybody can buy the BERETTA ARX-160 game set.
The receiver is made from high-impact ABS plastic. On top of the frame, you can see a Picatinny rail. You can install additional equipment (a flashlight, different sighting equipment, target indicator). There are also three rails on the foregrip for installing additional equipment such as a tactical grip and a flashlight. The length with unfolded buttstock is 98 cm.
BERETTA ARX-160 has a G-shaped collapsible buttstock which can be adjusted in four different positions. The weight is 2.5 kg. The safety catch levers are located on both sides of the pistol grip. Now you can turn on the tagger with any hand. You can fold the dioptric backsight and foresight in order to avoid accidental damage.

There are 5 different sling swivels for the gun belt. The ergonomic pistol grip and the receiver look very authentic. The trigger goes very smoothly. Use the bolt to reload the weapon. The Li+ accumulator (2.2 Ah) gives you up to 30 hours of great performance. The range is 200 meters. The speaker is located at the magazine. The charging socket is below the pistol grip.
BERETTA ARX-160 has a good frame. The weapon uses the best materials and electronics. Do you want to become the soldier of the future? LASERWAR company will make your dream come true.
*Attention! The sight must be purchased separately and not included in the play set!
| | |
| --- | --- |
| Charger type | Li+ (8,4V; 1000 mA) |
| Battery type | Li+ (2,6 Ah; 7,4V) |
| Battery life | 30 h |

| | |
| --- | --- |
| Effective firing range | 200 m |
| Length | 98 sm |
| Weight | 2.5 kg |
| | |
| --- | --- |
| Charger type | Li+ (8,4V; 1000 mA) |
| Battery type | Li+ (2,6 Ah; 7,4V) |
| Battery life | 30 h |
| Effective firing range | 200 m |
| Length | 98 sm |
| Weight | 2.5 kg |

Download Passport 0.4 MB (DOC)