AK-105 BARS Steel Series
Small Kalashnikov assault rifle, "100th series". Designed for the 5.45x39 mmcartridge for the Russian army and law enforcement agencies. The difference from AK-74M - the shorter barrel and flame arrester.
The distinctive feature of the 100th series - the absence of wooden parts. The buttstock and foregrip are all made from impact-resistant black glass-filled polyamide. Due to that feature, as Monetchikov writes, the model was called
the "Black Kalashnikov" by the Americans. A reliable, convenient, efficient model. Combat vehicle crews, special units of the Ground Forces and law enforcement agencies in Russia have already appreciated the advantages of the short-barreled AK-105. Now it's the time for laser tag fighters to have a try!
Characteristics of design
A truly legendary model. We have retained the spirit of the series in terms of its ergonomics and reliability. The Steel series, authentic look - this tagger is a must-have for any laser tag club. There are a minimum of running parts, which means the Bars can operate in any game conditions.
Moving parts: a folding buttstock; retained safety catch, adjustable backsight and foresight. On the left-hand side there is a special rail for mounting sights. The body is made of gun steel, the foregrip and buttstock are made of polyamide. The weight is 3.55 kg. The length is 96 cm. If you want to experience true army quality, AK-105 Bars is your choice.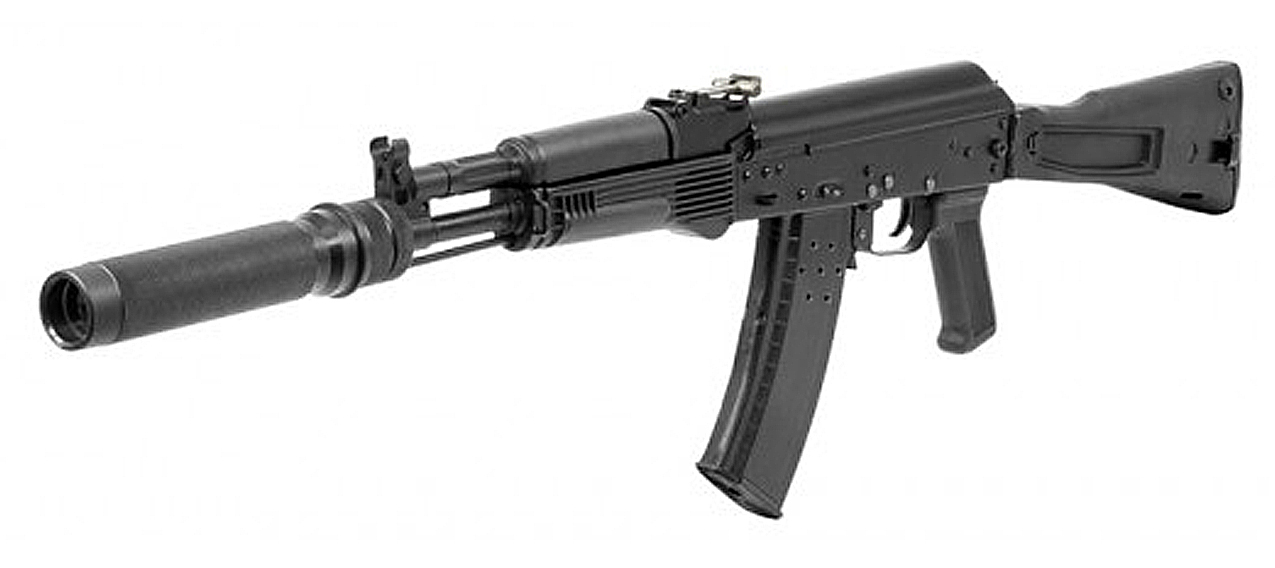 The integration of the electronics is carried out with minimal interference in the design. AK-105 is packed with a 2.2 Ah lithium battery. Prism and Parallax tubes can be used as optical systems. They are similar in appearance to flame arresters and silencers. That means that the tubes will fit perfectly into the overall model design. The bolt is used to reload the weapon; the safety switch changes the firing modes depending on the position.
The scope of supply by default includes the rifle. Hit sensors, chargers, sights and gun belts are purchased separately. It is worth noting that the recoil imitation can only be provided if the pistol grip is replaced. The upgrade cost is 1,500 roubles. When the OLED display is installed, the buttstock is welded in place. The buttstock then becomes unfoldable.
Parameters
| | |
| --- | --- |
| Charger type | Li+ (8,4V; 1000 mA) |
| Battery type | Li+ (2,2 Ah; 7,4V) |
| Battery life | 30 h |
| | |
| --- | --- |
| Effective firing range | 185 m |
| Length | 96 cm |
| Weight | 3.5 kg |
| | |
| --- | --- |
| Charger type | Li+ (8,4V; 1000 mA) |
| Battery type | Li+ (2,2 Ah; 7,4V) |
| Battery life | 30 h |
| Effective firing range | 185 m |
| Length | 96 cm |
| Weight | 3.5 kg |

Download Passport 0.5 MB (DOCX)