RPK-S Armada Steel Series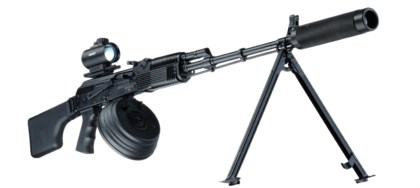 The Kalashnikov light machine gun is based on the AKM, replacing the Degtyaryov machine gun. The weapon was adopted for service in 1961. It has undergone a number of upgrades over the years and has established itself as the world's lightest machine gun. The RPK is notable for its efficiency, simplicity and ease of use.
The game version of RPK-S ARMADA machine gun is a great addition to any laser tag soldier's arsenal.
The basis of the laser tag model is the RPK-74S original model made by the Izhevsk Machinebuilding Plant. The steel body ensures the robustness, reliability and durability of the chosen model. The Armada is very comfortable and easy to carry: the steel bipods can be easily folded down if necessary, the buttstock is also foldable, which makes the tagger easy to transport.
The machine gun can be supplemented with an OLED display, but then the buttstock will not fold down. Please note that you can install it at a separate fee.
In place of the standard magazine, the tagger is "decorated" with the drum magazine. The gun weighs 5.6 kg and is 95 cm long with the folded stock and 123 cm long - with the unfolded stock.
The Steel and Special series are acknowledged by many players to be the most reliable and stable. The Armada belongs to the Steel series, which means up to a year warranty on the selected model.
Use the bolt to reload the weapon, the machine gun is activated by a button on the drum magazine. The powerful loudspeaker makes the tagger sound just like a real RPK.
There are no restrictions in the choice of the platform and optical system: any generation of electronics and Prism or Parallax branded optics are available for the tagger.
Parameters
| | |
| --- | --- |
| Charger type | Li+ (8,4V; 1000 mA) |
| Battery type | Li+ (2,2 Ah; 7,4V) |
| Battery life | 30 h |
| | |
| --- | --- |
| Effective firing range | 250 m |
| Length | 123 cm |
| Weight | 5.6 kg |
| | |
| --- | --- |
| Charger type | Li+ (8,4V; 1000 mA) |
| Battery type | Li+ (2,2 Ah; 7,4V) |
| Battery life | 30 h |
| Effective firing range | 250 m |
| Length | 123 cm |
| Weight | 5.6 kg |

Download Passport 0.5 MB (DOC)