Contacts
The item has been successfully added to cart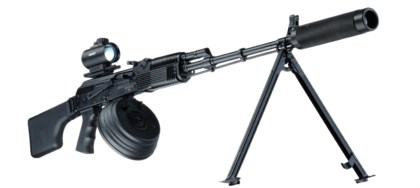 Equipment Options
Version
Optics type
Defeat sensors and battery charger must be purchased separately for selected version
Available options for selected version
Defeat sensors and battery charger must be purchased separately for selected version
Available options for selected version
Defeat sensors and battery charger must be purchased separately for selected version
Available options for selected version
DESCRIPTION

VIDEO

PARAMETERS

CUSTOMER REVIEWS
Based on a model from Izhevsk Machinebuilding Plant. The reliable body is made of steel with polyamide inserts. The game set is equipped with a V-shaped rail to install a sight. The metal bipod is very comfortable to use. The collapsible buttstock makes it easier to carry the weapon with you. Use the bolt to reload the weapon. There is also a safety catch. Press the button located on the drum-type magazine to turn the weapon on.
The drum-type magazine is a distinctive feature of the game set. The powerful speaker inside the magazine provides a very loud sound. Thanks to the acoustic properties of the drum magazine, this game set sounds almost like a real machine gun. If you want to keep the enemies in horror with your appearance and the bark of your weapon, then this game set is all you need! But be prepared to carry a very heavy monster - 5.6 kg. RPK-S ARMADA will become a true gem in any player's arsenal!
*Attention! The sight must be purchased separately and not included in the play set!
| | |
| --- | --- |
| Charger type | Li+ (8,4V; 1000 mA) |
| Battery type | Li+ (2,2 Ah; 7,4V) |
| Battery life | 30 h |

| | |
| --- | --- |
| Effective firing range | 250 m |
| Length | 123 cm |
| Weight | 5.6 kg |
| | |
| --- | --- |
| Charger type | Li+ (8,4V; 1000 mA) |
| Battery type | Li+ (2,2 Ah; 7,4V) |
| Battery life | 30 h |
| Effective firing range | 250 m |
| Length | 123 cm |
| Weight | 5.6 kg |

Download Passport 0.5 MB (DOC)