Contacts
The item has been successfully added to cart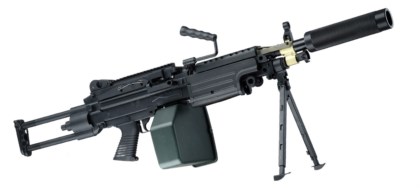 Equipment Options
Version
Optics type
Defeat sensors and battery charger must be purchased separately for selected version
Available options for selected version
Defeat sensors and battery charger must be purchased separately for selected version
Available options for selected version
Defeat sensors and battery charger must be purchased separately for selected version
Available options for selected version
DESCRIPTION

PARAMETERS

CUSTOMER REVIEWS
The light automatic gun was developed by FN HERSTAL, Belgium and entered the serial production in the early 1980s. The weapon is made in different modifications. We have chosen the M249 SAW modification (Used in the United States Army).
The game set has a bipod you can fold and an open sight. The body is made of metal with aluminium inserts, the foregrip - ABS plastic, the barrel - light alloy. The big dimensions allowed to install the 8th generation electronics in the device body. The weapon is powered by a 2.2. Ah lithium battery.
The battery gives up to 30 hours of great performance. The speaker is inside the body that makes sound effects very loud. The weight of the model is approximately 7 kg. The terms of the order fulfillment are stipulated separately. Approximately from 3 to 4 days.
| | |
| --- | --- |
| Charger type | Li+ (8,4V; 1000 mA) |
| Battery type | Li+ (2,2 Ah; 7,4V) |
| Battery life | 30 h |

| | |
| --- | --- |
| Effective firing range | 250 m |
| Length | 130 cm |
| Weight | 7 kg |
| | |
| --- | --- |
| Charger type | Li+ (8,4V; 1000 mA) |
| Battery type | Li+ (2,2 Ah; 7,4V) |
| Battery life | 30 h |
| Effective firing range | 250 m |
| Length | 130 cm |
| Weight | 7 kg |

Download Passport 0.5 MB (DOC)