RPG-22L Thunder Extra Series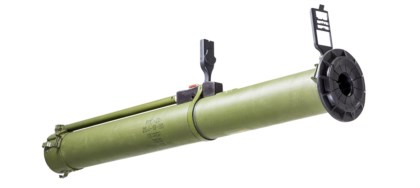 The RPG-18 Fly grenade launcher can be easily found in the LASERWAR online shop. To be more precise, its laser tag version, Thunder RPG-22L, EXTRA series. Its legendary predecessor dates back to the late 1960s and was adopted into service 12 years later.
The rocket-propelled grenade is a one-shot weapon. To hit enemy equipment, the soldier had to fire the grenade launcher in the prone position, placing it on his shoulder. The laser tag version retains this feature.
Characteristics of design
At first glance, the "cannon" dimensions are striking. The model is 75 cm long, but the Thunder weighs one 1.5 kg. The grenade launcher is made of glass fabric impregnated with varnish. The barrel is fitted sighting equipment, a trigger and power socket. The activation is performed by raising the safety catch, the shot is fired after the trigger is pulled.
The principle of one-shot use is retained in the laser tag version. The grenade launcher has a "detonation" function - pressing the firing button triggers the IR pulse a second later. However, the owners of this massive toy should be aware that they only get one shot, the grenade launcher has to be restarted to attack again.
The game set comes with only a grenade launcher. The hit sensor is housed inside Thunder. The range of the shot ranges from 200 to 300 m. At the heart of this impressive piece of equipment is a powerful 2.2 Ah lithium battery. It keeps the grenade launcher in play for up to 36 hours.
These weapons are ideal for scenario games. All parameter settings take place in the LASERWAR configurator.

Parameters
| | |
| --- | --- |
| Charger type | Li+ (8,4V; 1000 mA) |
| Battery type | Li+ (2,2 Ah; 7,4V) |
| Battery life | 30 h |
| | |
| --- | --- |
| Effective firing range | 200 m |
| Length | 75 cm |
| Weight | 1.5 kg |
| | |
| --- | --- |
| Charger type | Li+ (8,4V; 1000 mA) |
| Battery type | Li+ (2,2 Ah; 7,4V) |
| Battery life | 30 h |
| Effective firing range | 200 m |
| Length | 75 cm |
| Weight | 1.5 kg |

Download Passport 0.6 MB (DOC)