Universal Remote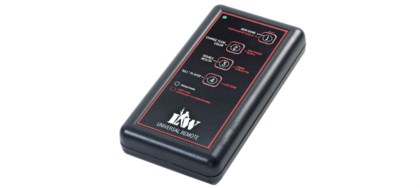 The universal remote control is a must-have device for rental clubs. It sets up the parameters of game equipment in a couple of minutes. Like the other remotes in the LASERWAR shop, the universal remote is made of black plastic. The device has small dimensions and easily fits in your pocket.
The weight is 134 g; the length - 13.5 cm.
There are only four buttons on the game device, each labeled with a number. Eight functions can be configured using the remote, but the main feature of this device - it can be fully adjusted to suit the player's needs. You can "remap" all the buttons. You will need a PC, a USB base and a laser tag Configurator to change the standard button commands.
By default, the remote sets the start of the game, changes color, doubles health and "kills" the player. After holding down the first button for five seconds, the functions change. They are colored in red on the device. "Reboot" allows you to change the following settings: start a new game immediately, shot power, zombie apocalypse and the last hero.
The remote control is powered by two AA batteries and does not require a separate charging device.
Parameters
| | |
| --- | --- |
| Voltage | 3 V |
| Battery type | 2 AA batteries |
| Battery life | up to 3 months |
| | |
| --- | --- |
| Dimensions | 13.5 x 7 x 2.5 cm |
| Weight | 0.134 kg |
| | |
| --- | --- |
| Voltage | 3 V |
| Battery type | 2 AA batteries |
| Battery life | up to 3 months |
| Dimensions | 13.5 x 7 x 2.5 cm |
| Weight | 0.134 kg |

Download Passport 0.8 MB (DOCX)