Medic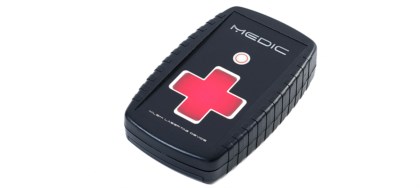 A miniature device designed for setting games from a distance. The device adjusts the most frequently used commands. The Smart remote saves the instructor time and helps you play with more people. For example, by having sports tournaments or holidays.
The device fits easily in the palm. But don't get deceived with its size - the game set is packed with functions. Weighing just 40 g and measuring 7 cm in length, it consists of a black plastic body with a battery, module mounts and control units inside.
The remote control has only five buttons and can be used to set up to 14 commands - the basic laser tag package. The topmost button with the LASERWAR logo starts the action. Select a team by pressing one of the buttons. The colored indicator will show which team you have set. The tagger confirms the task with a voice command.
The remote control for laser tag works in the same way as a TV remote control. It does not need to be switched on, it is switched off after one minute of inactivity or when any button is pressed for two seconds.
The main functions of the Smart Nano include the command color selection, start or pause the game, start a new game, delayed start, resuscitation, anomaly, 49/99 shot power, player destruction, friendly fire on/off, and clearing statistics.
Not only is it compact, it is also versatile in its capabilities. The remote control has an effective range of up to 2 m. Battery life ranges from one month to six months, depending on usage.
Parameters
| | |
| --- | --- |
| Battery type | 4 batteries AA (1.5 V) |
| Dimensions | 14.5 x 9 x 3.2 cm |
| | |
| --- | --- |
| Battery type | 4 batteries AA (1.5 V) |
| Dimensions | 14.5 x 9 x 3.2 cm |
| Weight | 0.23 kg |

Download Passport 0.3 MB (DOCX)