Command Post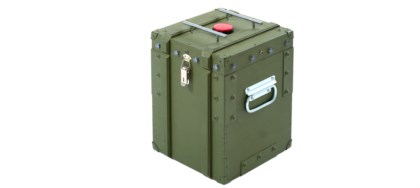 LASERWAR specialists spent more than a year to develop the Command post game device. It competes with many other devices because it can be a good replacement option. The Command post is versatile in every sense, the construction and design make it unique.
We are dealing with a large green box, with metal handles and a red button. Inside the box is empty, the space is purposely unoccupied. This makes it easy to carry other devices or store items. All electronics are hidden inside the cover itself. The device has impressive dimensions: it's 38.5 cm high and weighs 6.5 kg. The device is a mixture of a brutal design and functionality.
During the game, the Command post will replace several devices at once: Control Point, Basic First Aid Kit and Universal Point. It can be used in almost any scenario. A powerful speaker makes the game more vivid. All actions are duplicated with sounds. The device will remain operational for a full day before needing to be recharged. The 2.2 Ah. lithium battery is the heart of the game set. The power socket is located at the back of the cover near the lock. The game set is switched on with a key.
There are LEDs on the edges of the cover and photo sensors on top - these are responsible for light indication and feedback to the player.
Once enabled, three scenarios will become available: Basic First Aid Kit, Base Capture and Confrontation. Any of these must be selected by pressing a button, a beep will inform you of the scenario activation and start of operation. In the first option, the Command post acts like a firs aid kit. The principle is the same - press the button to replenish hp and return to the game after a virtual death. The device will also "revive" all players within its range. The game set
is set up manually without remotes or software. To change the scenario, must switch the device off and on.
The Base Capture scenario becomes more exciting with the use of this device. Photo sensors record shots from a certain distance - one or two m, the number of hits is set by the user in the laser tag Configurator. The Command post also emits radiation - making it many times more difficult to stay nearby. Two Command posts are needed to implement the third scenario: Confrontation. The device replenishes the hp and ammo of its friendly team. Opponents will be able to attack the Control point and deprive it of ammo. The number "replenishments" is limited and set in the Configurator.
The Command post stands out from other devices in many ways. It combines a number of advantages that make the game easier and more realistic.
Parameters
| | |
| --- | --- |
| Charger type | Li+ (8,4V; 1000 mA) |
| Battery type | Li+ (2,2 Ah) |
| Battery life | 24 h |
| | |
| --- | --- |
| Dimensions | 27х27х38.5 cm |
| Weight | 6.5 kg |
| | |
| --- | --- |
| Charger type | Li+ (8,4V; 1000 mA) |
| Battery type | Li+ (2,2 Ah) |
| Battery life | 24 h |
| Dimensions | 27х27х38.5 cm |
| Weight | 6.5 kg |

Download Passport 0.5 MB (DOC)