Chameleon Universal Point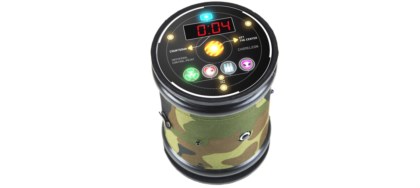 The compact and versatile Chameleon device impresses with its original design and great versatility. The device is shaped like a cylinder and has a removable military-style cover. It is secured with a buckle and is removable for washing purposes.
The body itself is based on black, durable plastic. All game information is placed on the top base, namely the numeric display, the ammunition, health, radiation and anomaly icons. The device is comfortable to hold, weighs 620 g and is 16.5 cm long. There is an anti-vandal lock, a control button and a power socket. Thanks to its integrated lithium battery, Chameleon will run on a single charge for 36 hours.
The game set can replace up to three other additional devices. The universal point supports four types of pulses: "radiation" (takes life from players), "healing" (restores health completely, like a first aid kit), "replenish ammo" (replenishes ammunition) and "anomaly". Three scenarios are played with the device, the parameters of which can be edited. Chameleon is switched on by a button, the digital display shows the current scenario. The same button or the laser tag remote control to start the scenario.
The following scenarios are available: "Radiation point", "Base point", "Control point".
The device works on a plug-and-play basis, but it also has other features that add to the excitement of the game. Let's focus on how the device is set up. The parameters can be changed by pressing the control button or with the laser tag Configurator. The basic setting principle: the parameters are switched around within the scenario. It is possible to move to the next parameter after holding down the control button for more than three seconds. If there is a pause of five seconds, the game set switches to scenario number editing. The settings can also be set using the LASERWAR laser tag Configurator software.
It is better to see the versatile Chameleon in action: the game set is easy to switch on and set up. It also replaces several devices at once. The brutal appearance should also be taken into account. The device is available to order from the LASERWAR online shop.
Parameters
| | |
| --- | --- |
| Battery life | up to 36 h |
| Charger type | Li+ (8,4V; 1000 mA) |
| Battery type | Li+ (2,2 Ah; 7,4V) |
| | |
| --- | --- |
| Hight | 16.5 cm |
| Diameter | 12.5 cm |
| Weight | 0.62 kg |
| | |
| --- | --- |
| Battery life | up to 36 h |
| Charger type | Li+ (8,4V; 1000 mA) |
| Battery type | Li+ (2,2 Ah; 7,4V) |
| Hight | 16.5 cm |
| Diameter | 12.5 cm |
| Weight | 0.62 kg |

Download Passport 2.9 MB (DOC)